7 Pearls Dental Preventative Care
Enhancing Smiles Across Wickham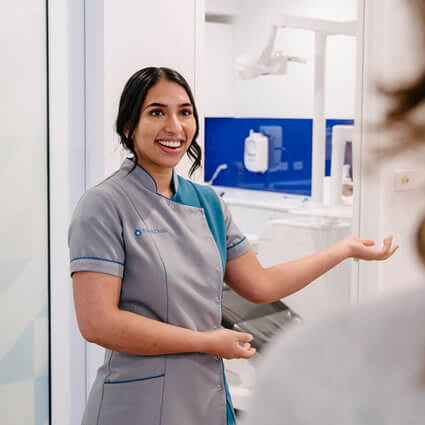 Our practice is committed to keeping your family's smiles healthy through preventative, non-invasive strategies when at all possible. Since most dental diseases are preventable, we aim to equip you with the resources and therapies available to stop common problems before they start.
Individuals with healthy teeth and gums should generally schedule a check and clean every six months. If you've experienced gum disease in the past, it may be better to see you as frequently as 3-4 times per year.
What Happens During Your Checkup?
During your visit, our dentist will thoroughly evaluate the integrity of your existing dental work, check for potential new decay, screen your gums for disease and perform an oral cancer exam. Our hygienist will clean and polish your teeth, removing any tartar buildup or stain that has accumulated since your last visit.
Periodic dental X-rays will be needed on an intermittent basis. These digital images allow us to screen for signs of disease that aren't visible during a clinical exam. Small bitewing radiographs are usually taken once per year, while full mouth series are typical every 3-5 years.
Know the Signs of Gum Disease
Regular scale and cleans are crucial in the prevention of periodontal (gum) disease. Since periodontitis is the leading cause of tooth loss, understanding the warning signs can help you to get treatment before it's too late. Some of the symptoms associated with this infection include
Bleeding, swollen gums
Bad breath (halitosis)
Gum recession
Tooth mobility
Sensitive teeth
Heavy tartar buildup
During your exam, we'll measure where the gums attach on each tooth and use X-rays to monitor the height of your bone around every root. Because periodontal disease causes tissues to detach from teeth, we aim to intervene with therapeutic methods as early as possible.
Protective Fissure Sealants
The deep pits and grooves of back teeth are some of the first areas to develop cavities. Brushing regularly is essential, but even tiny bristles cannot always clean these narrow fissures. To block cavity-causing acids and make brushing more efficient, we recommend placing sealants.
Dental sealants are easy to place and only take a few minutes per tooth to complete. No numbing or drilling is necessary. We recommend having your child's teeth sealed as soon as their 6 and 12-year molars erupt, respectively.
Equipping Our Patients
Your home care and oral hygiene habits are some of the biggest influencers when it comes to your dental health. Daily flossing, along with brushing twice per day, is crucial to removing the sticky biofilm that causes cavities and periodontitis. Our hygienists will show you how to use modified strategies and tools to clean hard-to-reach areas so that you can keep your smile healthy between checkups.
Oral Cancer Exams
Anyone can develop oral cancer, but risk factors like sun exposure, certain viruses and tobacco or alcohol use can increase your risk of the disease. We screen every patient for precancerous tissues at each visit. Early intervention is the best treatment!
Schedule a Checkup Today
Book your next scale and clean to get your smile's health back on track.
CONTACT US
* Any surgical or invasive procedure carries risks. Before proceeding, you should seek a second opinion from an appropriately qualified health practitioner.

Preventative Care Wickham, Newcastle, Hamilton East, Newcastle West NSW | (02) 4077 3821