Tooth Extractions at 7 Pearls Dental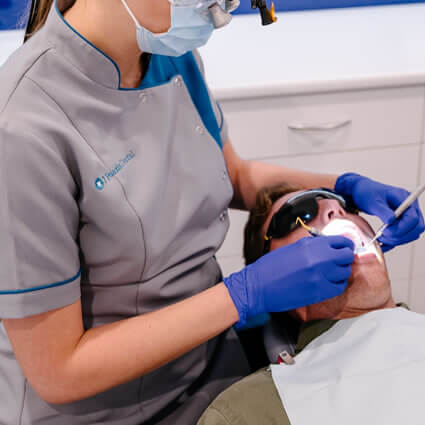 Tooth extractions are the most common type of oral surgery that we perform. While it's our goal to help you preserve your healthy teeth as long as possible, there are instances where having a tooth removed may be in the best interest of your overall oral health. Here are some reasons why a tooth extraction may be in order:
Aggressive periodontal disease
Emergencies or injuries
Painful toothaches
Full mouth rehabilitation
Keeping You Comfortable
When an oral surgery is necessary-as with any other type of dental procedure-we aim to keep you as comfortable as possible throughout the process. In addition to numbing the area around the extraction site, we also offer safe and gentle sedation dentistry to help you relax.
Inhalation sedatives work quickly and are completely reversible so that you can easily drive yourself home afterwards. If oral or IV sedation is preferred, you will need to have someone accompany you as the effects can cause drowsiness for a few hours.
Considerations to Keep in Mind
If you're having a tooth extracted because of damage or infection, it's essential to have a plan for replacing it after your oral surgery. A restoration such as a dental implant or fixed bridge can fill in the open space for functional and aesthetic purposes. Without one, the surrounding teeth can start to shift or move out of place, compromising the alignment of your entire smile.
Alternatives to Dental Extractions
Painful or infected teeth may be able to be restored with treatments such as root canals, crowns or soft tissue therapy. When your teeth are structurally sound, we will review all options with you so that you can make an educated decision about the best next steps for your individual concerns.
In Pain? Emergency Dentistry Is Available!
Our office is open seven days a week to provide urgent emergency care and pain relief, including oral surgery when necessary. Contact us today.
CONTACT US
* Any surgical or invasive procedure carries risks. Before proceeding, you should seek a second opinion from an appropriately qualified health practitioner.

Tooth Extractions Wickham, Newcastle, Hamilton East, Newcastle West NSW | (02) 4077 3821