Cosmetic Dentistry at 7 Pearls Dental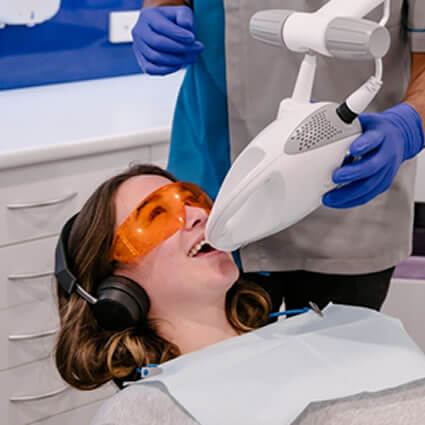 We want all of our patients to be happy with their smile. If you would like to improve the appearance of your teeth and gums, we can help you. At 7 Pearls you can discover a full offering of cosmetic dentistry services. You can come in specifically to have any of these procedures done or speak to our dentist about your concerns at your routine appointment. We'll then plan out any further treatment you require.
Below you will find the cosmetic dentistry services we provide.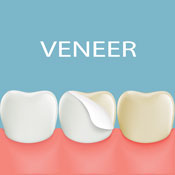 If you dislike the way your teeth appear, you can make an easy transformation with dental veneers. These thin shells go directly over your existing teeth to give you a beautifully aligned look. We offer porcelain and composite veneers.
Porcelain veneers provide optimal aesthetics and customisation options. Each of these restorations is handmade in a lab, so a total of two visits to 7 Pearls Dental are needed to complete your treatment.
Veneers made of composite resin can be prepped and placed in one sitting. We gently reshape the tooth so that the resin bonds closely as possible and we shape the pre-selected shade directly onto your tooth enamel to fill in any flaws or discrepancies in your smile.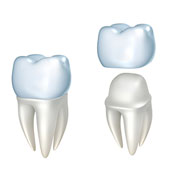 We're able to craft expertly designed porcelain crowns and bridges to help fill in the damage or flaws caused by accidents and decay. Each of our custom restorations blends in with your overall smile for an aesthetic approach to restorative dentistry.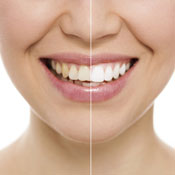 We're proud to offer ZOOM® teeth whitening products. They're our product of choice because of just how well they work.
When you need to replace missing teeth, dental implants are an excellent option to consider. Today's implant designs allow you to replace a single tooth as well as cases involving multiple teeth or all of your teeth.
Clear Aligners: Straighten your teeth without anyone knowing by using SmileInStyle clear aligners by 7 Pearls. This orthodontic system is nearly invisible and doesn't involve any uncomfortable brackets or wires. We'll review your progress periodically, then make sure you can maintain your results when your treatment is concluded. We also offer other clear aligners such as Invisalign and SureSmile.
Teeth Braces: We're proud to offer a variety of teeth braces for our patients including metal braces and ceramic braces. We have a number of orthodontic options to help you achieve a straight smile. To find out which option may be best for you, simply book a visit with our practice.
Key Benefits of Cosmetic Dentistry
Here are some of the many reasons why cosmetic dentistry might be the right choice for you:
Improve the appearance of your smile. Our services can cover or correct the following: stains, chips, cracks, gaps, small teeth and more.
Look younger. As you age, your teeth may become discoloured from everyday activities even with regular brushing, flossing and dental cleaning. With teeth whitening you can turn back the clock and have a younger-looking appearance.
Feel more confident. When you have various tooth flaws, you likely don't feel like smiling or interacting with others. When your teeth look straight, white and beautiful, however, you will likely have more confidence professionally and personally.
Frequently Asked Questions
Why should I see a cosmetic dentist?
Our cosmetic dentists are highly trained to safely and effectively provide an array of treatments that are designed to enhance your smile. Whether you have crooked or missing teeth, want to align your smile without braces, or get a brighter look, cosmetic dentistry can help you achieve the stunning smile you've always wanted.
How long does each cosmetic treatment take?
Just as every smile we address is unique, so are the treatments we offer. While cosmetic treatment times may vary, there are some cosmetic treatments that we can complete in just one office visit.
Will my insurance cover cosmetic dental treatment?
Out-of-pocket expenses and insurance coverage for cosmetic treatment vary. Our practice can provide several different treatment options, and we will coordinate with your insurance provider, if you have available coverage. You will be informed of all treatment costs up-front so that you can decide on the best payment plan for your needs and your budget.
We are also pleased to offer a range of payment plan options.
What causes teeth to discolour?
Tooth discolouration is a normal part of aging. As people grow older, enamel wears down, and teeth tend to look dull. Smoking and consuming coffee and tea also can cause teeth to appear tarnished or dingy.
Other causes of tooth discolouration include side effects of medications, a person's genetic makeup and excessive fluoride use. Teeth whitening and veneers provide an aesthetic solution for those with discoloured or dull-looking teeth.
Are any side effects associated with teeth whitening?
Rest assured that we take protective measures to prevent any discomfort during teeth whitening treatment. Usually, a protective gel or rubber shield is used to keep bleaching agents from damaging delicate gum tissue. The most common bleaching agents used by dentists are approved for use by the Australian Dental Association, ensuring a high degree of safety and effectiveness. After the whitening procedure, you may experience mild tooth sensitivity for a short period.
What are the benefits of veneers?
Dental veneers offer more dramatic and overall adjustments to your teeth than other types of cosmetic procedures. Since they're used in sets of 4-8 or more at a time, veneers are able to transform a significant number of teeth at once.
What cosmetic procedures are available for people who are missing teeth?
Even though dentures are not considered a cosmetic treatment, they offer an aesthetic benefit for those who have lost all or some of their teeth. If you are only missing certain teeth, a dental bridge or dental implants may offer the most ideal solution.
Do you have options for anxious patients before cosmetic treatment?
Yes, we offer Sedation and Analgesia to ensure you feel completely comfortable before and during your cosmetic treatment.
The level of sedation that's needed depends on many factors, including your health and medical history and the procedure being performed. Most people do not need a high level of sedation during cosmetic dental procedures.
Book Your 30-Minute FREE Consultation
Find out which type of cosmetic dental treatment is right for your smile by requesting a no-fee consultation!
* Any surgical or invasive procedure carries risks. Before proceeding, you should seek a second opinion from an appropriately qualified health practitioner.


Smile Makeovers & Cosmetic Dentistry Wickham, Newcastle, Hamilton East, Newcastle West NSW | (02) 4077 3821